H.R.B (Hearing Resource Base)
Those pupils who are part of the school's hearing resource base receive particularly effective support so that they can access the full curriculum (Ofsted Report April 2022)
Bordesley Green Girls' School and Sixth Form, (B.G.G.S), has a fantastic provision for deaf students. We have an intake of 2-3 students per academic year and each case is looked at individually and a decision is made based on a number of different factors. An application should be put forward with the assistance of the primary school, teacher of the deaf and S.E.N.A.R (Special Educational Needs Assessment and Review).
HRB COVID Information
Arrangements for Education, Health and Care Plans

Here at B.G.G.S, we continue to work in partnership with families, students, and outside agencies to ensure that we are supporting any element of an EHCP which can be delivered using reasonable endeavours delivered during this time.
The Coronavirus Act 2020 (ttps://www.gov.uk/government/publications/changes-to-the-law-on-education-health-and-care-needs-assessments-and-plans-due-to-coronavirus/education-health-and-care-needs-assessments-and-plans-guidance-on-temporary-legislative-changes-relating-to-coronavirus-covid-19) outlines new ways of working for schools during this time.
Provision
Students at Bordesley Green Girls' School and Sixth Form will receive a letter outlining what provision can be offered using reasonable endeavours during this time. This provision will vary according to the needs of the student for example this may be a call from a TA to follow a specific intervention which had previously been delivered in school.
Records are kept of any interventions delivered to the students whilst at home and recorded on the school provision map. A Teacher of the Deaf or a member of the department will contact each student weekly to ensure the student can access the curriculum.

Using reasonable endeavours, online lessons will be supported through pre-tutoring of content where possible, or through PowerPoints containing an audio.
Students with EHCPs may continue to attend school, decisions about school attendance are made by parents in collaboration with students. If a member of Children's Services supports a family, they too are involved in these discussions. A Teacher Of the Deaf is available to support students attending school.
Protocols are in place for the safe use of audiology equipment during the school day, details of which are available to share with parents on request.
Year 10 students attending curriculum lesson with their teachers will be supported by a member of the HRB staff.
EHCP review meetings
EHCP review meetings continue during this time, ideally, we meet with parents using Teams with outside agencies attending these meetings. Parent and student views are gathered before any review takes place. If a parent is not able/comfortable taking part in a Teams meeting, then an alternative meeting format is agreed with the family and supporting outside agencies. If we cannot arrange a suitable review format in which the family and student are an integral part of the planning, then the review meeting will be postponed until such time as we can meet in person.
Risk Assessments
Schools have been asked to complete risk assessments for every young person with an EHCP, these are updated regularly to include any changes in circumstance e.g. the student is attending school rather than receiving support at home. The risk assessment includes information from colleagues in health and social care where appropriate in relation to the following questions:
1. The potential health risks to the individual from COVID 19 bearing in mind any underlying health conditions.
2. The risk to the individual if some or all elements of their EHCP cannot be delivered, and the risk if they cannot be delivered in the normal manner or in the usual setting.
3. The ability of the individual's parents or home to ensure their health and care needs can be met safely.
4. The potential impact to the individuals wellbeing as a result of the changes to routine or the way in which provision is delivered.
5. Any out of -school or college risk or vulnerability.


Audiological Equipment
Our students are issued with audiological equipment such as radio aids. Radio aids are used at B.G.G.S to help students with a hearing loss in order to improve their communication and ability to hear teachers and their peers.
Hearing aids and cochlear implants/speech processors allow most wearers to hear quiet speech in ideal listening situations. However, most speech is heard in less than ideal listening situations and there are times when a H.R.B student may find it difficult to listen due to unwanted background noise; sounds echoing around the room (reverberation) or there may be distance between the person who is speaking and the deaf student.
The radio aid can help overcome these problems. It consists of a transmitter worn by a teacher and a receiver worn by the student . The radio aid operates by allowing the sound the student needs to hear (such as the teacher's voice) to be enhanced and in turn this minimises background noise.
Every morning we check each student's equipment to ensure that it is working efficiently and any highlighted issues are resolved.

Integration
Integration within the mainstream part of the school is of paramount importance. However, recognising their deaf identity and realising that it is part of them is of equal importance and we work with staff and students to ensure this is implemented. We carry out deaf awareness workshops with internal staff and external organisations such as the N.D.C.S (National Deaf Children's Society). We aim to integrate practical activities into the curriculum as much as possible, for example we did an art therapy workshop. This involved making hand casts of different signs and discussing personal experiences surrounding deaf identity. It was a positive experience and worked well.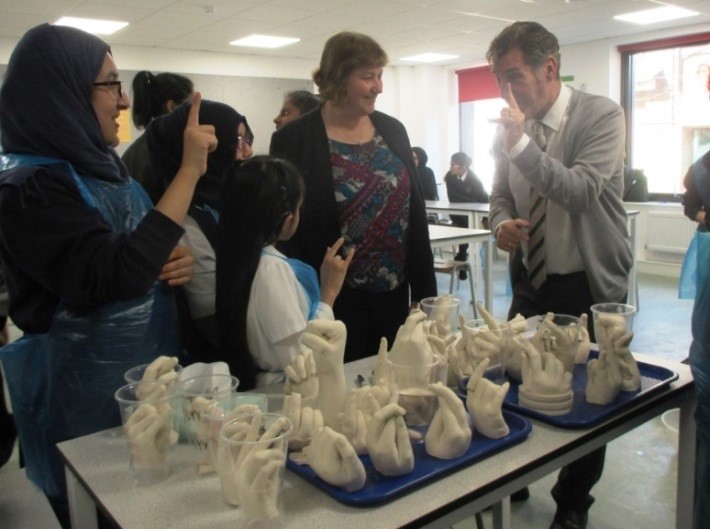 Assessments
We carry out a range of language assessments which are used to understand student needs and to set interventions. For example, we may identify that a student is struggling with vocabulary; therefore we would devise an intervention to try and improve this. In addition, we also have visiting speech and language therapists, who support our students with difficulties surrounding communication. They aim to develop speech and language and visit students intermittently throughout the academic year.
Access Arrangements
Access arrangements for examinations are implemented from year 7, so that students are given the opportunity to practice in preparation for their G.C.S.E exams. H.R.B students can potentially receive the following provisions:
Exams in an acoustically set up room (H.R.B) instead of the hall.
A reader to read material in their examination (except for English).
A B.S.L signer if required.
An Oral Language Modifier, who will provide reasonable adjustments in examinations to make the language accessible to the student.
Each student will be required to undertake a formal assessment to determine whether they are eligible for the provisions above.
Student Trips
H.R.B students are also offered opportunities to go on trips with the school. This allows them to spend time with other students and helps them to build their social skills and confidence. Previously, students have been to The Snowdome, The Rep Theatre and overnight stays for camping to mention a few.

Our Students
Our students love being part of the H.R.B. Please see their comments below.
"I really enjoy it in the H.R.B because teachers help you. I feel happy." Afza
"The teachers give me a lot of support in lessons. They can make it easy and simple for us." Aminah
"I like it in the H.R.B, because it's really fun and they help me to learn more. It helps me to make more friends." Shawneece
"I really love this school and we have lovely teachers to support us. I'm happy in the H.R.B because they help us and make me feel safe." Hannah
"The H.R.B teachers have supported me a lot over the years. Since year 7 I have become more confident because of the help and support from the H.R.B staff. I am now in year 11, but sometimes I find the work difficult, especially in English as I find the literature hard to understand. But my teachers of the deaf break the information down and explain to me in a simple way." Maumina
We look forward to welcoming you in the coming academic year. If you have any questions, please feel free to ask our specialist staff members via the school number 0121 464 1881 or email enquiry@bordgrng.bham.sch.uk